Red Monkey Theater Group Presents Stop Kiss by Diana Son
4/13/2018
Mount student cast to star in apprentice show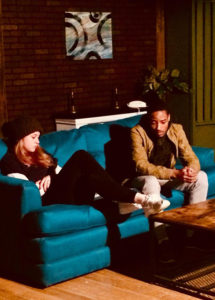 Riverdale, N.Y. – Red Monkey Theater Group (RMTG)—the College of Mount Saint Vincent's resident theater company—presents Stop Kiss by Diana Son, Saturday, April 21 through Sunday, April 29. Performances are April 21, 25, and 27 at 8:00 p.m., April 22 at 2:00 p.m., and April 29 at 7:00 p.m. The matinee performance on April 22 will be followed by a complimentary post-performance discussion with the cast and director. Performances will be held in Cahill Theater and will be free for College of Mount Saint Vincent students and staff with College ID.
The story is about Callie and Sara who unexpectedly fall in love once they meet. The mainstage production of Stop Kiss is directed by RMTG managing director Rachel Tamarin, while the apprentice version of the show—featuring a cast of Mount Saint Vincent students—will be directed by RMTG education director Amelia Huckel-Bauer. The student actors will be mentored by their counterparts in the main cast.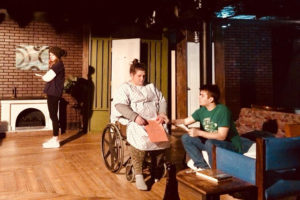 The student version of the play includes Erin Volpone '18, Emilie Swartvagher '18, Ainsley Brundage '20, Sean Rice '18, Caitlin Macahilig '18, and Joan Scardigno '21. The mainstage version of Stop Kiss features Zoey Rutherford, Grace Leneghan, Jacob Dabby, Brian Rojas, Tomo Lovric, Elizabeth DiMeo, and Bret Bucci.
The student version of this production is free to attend, but space is limited. Email info@redmonkeytheater.org to reserve tickets.
For tickets for the mainstage production, directions, and additional details, please visit redmonkeytheater.org.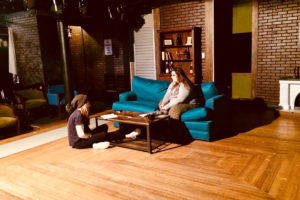 About Red Monkey Theater Group
Founded in 1999, Red Monkey Theatre Group (RMTG) is the resident theater company of the College of Mount Saint Vincent in Riverdale, N.Y. A nonprofit performing arts company operating out of Mount Saint Vincent's Cahill Theater, RMTG is dedicated to enriching local communities through the cultivation, creation, and presentation of live theater. Company members have trained with the Royal Shakespeare Company, the National Theater Institute at the Eugene O'Neill Theater Center, the Moscow Arts Theater, Lincoln Center Theater, and other diverse institutions and programs. Past productions include the company's original dramatic adaptation of Dostoevsky's The Brothers Karamazov, which enjoyed a month-long run at the Mazer Theater on the Lower East Side of Manhattan. The group's productions have toured throughout Westchester and the Bronx for the past several seasons, and RMTG shows have appeared as part of ArtsWestchester's acclaimed Live at the X performance series. RMTG also collaborates with M&M Productions to present a series of site-specific Sherlock Holmes adventures at Lyndhurst, a historic gothic revival estate in Tarrytown, N.Y.
About the College of Mount Saint Vincent
Founded in 1847 by the Sisters of Charity, the College of Mount Saint Vincent offers nationally recognized liberal arts education and a select array of professional fields of study on a landmark campus overlooking the Hudson River. Committed to the education of the whole person, and enriched by the unparalleled cultural, educational, and career opportunities of New York City, the College equips students with the knowledge, skills, and experiences necessary for lives of professional accomplishment, service, and leadership in the 21st century.