Service, Not Selfies
10/9/2018
Mount millennials answer call to service
While the modern college-aged millennial is often found swimming through post after post on social media, College of Mount Saint Vincent Dolphins are diving head-first into a new passion: service to the poor and vulnerable.
Spearheaded by the Office of Mission and Ministry, the Month of Service took place at the College for its sixth straight year—growing from a single day of volunteerism into an entire month's worth of outreach opportunities. This year's Month of Service added 1,700 individual volunteer hours, bringing the total hours served to over 10,000.
Mount students hold tight to the spirit of charity. Annually, the Office of Mission and Ministry teams up with FYE—or First Year Experience—to introduce first-year students to the Mount's long-standing tradition of giving back. Whether they're preparing meals at POTS Soup Kitchen, offering companionship to the elderly at the Hebrew Home at Riverdale, or building homes with Habitat for Humanity, Mount volunteers continue to break the millennial stereotype as they put away their cell phones and answer the call to service.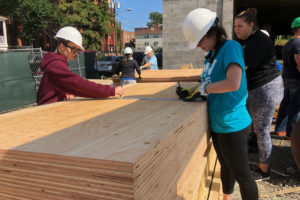 For Kayla Ortiz '19, the introduction to volunteerism through the Month of Service as a first-year student three years ago inspired a commitment to serving those on the margins of society. Over the past three years alone, she has volunteered with organizations throughout New York, Philadelphia, the Appalachian region, and Ethiopia.
"What started with an afternoon handing out sandwiches to the hungry in Grand Central Station has grown into a way of life. I don't need to rely on technology or my phone as an outlet. I know that what I'm doing through my service with the Mount is not only changing my life, but the lives of those around me—that's all I need."
And Kayla is just one remarkable example of the impact the Month of Service has on the College community.
"Our Leaders in Service are undeniably exceptional," said Matthew Shields, Director for Mission and Ministry. "These students don't just serve others; they bring social justice into their daily lives and engage in compassionate conversations with those in greatest need, showing them that someone cares."
The Midnight Run is one of the Mount's most popular and longest-running Partners in Ministry, backed by over 20 years of collaboration. Bill Gemake, who has volunteered nearly 30 years with the Midnight Run, has accompanied the College on more than 100 trips into Midtown Manhattan to feed the hungry. For Mr. Gemake, one element continues to impress him: the quick connections Mount students form with those they serve.
"Individuals on the street often ask about the Mount students they meet," he said. "They make a lasting impression on each other, and that element of conversation is so important."
Mount students devote their time to helping those most in need. They understand their integral role in preserving the human dignity of each person, which is essential during a time of unsettling political and religious turmoil. And they continue to reaffirm their unique commitments to charity, bringing an undebatable spirit of hope for the future—not only during the Month of Service, but always.
That's why the selfies can wait.
—Nicole Quaranto '18
About the College of Mount Saint Vincent
Founded in 1847 by the Sisters of Charity, the College of Mount Saint Vincent offers nationally recognized liberal arts education and a select array of professional fields of study on a landmark campus overlooking the Hudson River. Committed to the education of the whole person, and enriched by the unparalleled cultural, educational, and career opportunities of New York City, the College equips students with the knowledge, skills, and experiences necessary for lives of professional accomplishment, service, and leadership in the 21st century.