Students Volunteer Across Country, Abroad During Winter Break
1/23/2018
Riverdale, N.Y. – Service is not just an extracurricular activity at the College of Mount Saint Vincent. Student volunteers—known on campus as Leaders in Service—regularly spend their winter break offering help to those who need it most.
This year, more than 30 students participated in service trips organized by the College's Office of Campus Ministry—traveling domestically to New Jersey, New Orleans, and West Virginia, and abroad to Guatemala.
"We are proud to have over two dozen students volunteer for an extended period of time this winter intercession," said Matthew Shields, Director for Mission and Ministry. "These experiences enhance the understanding of our common humanity and provide avenues of serious reflection for our students."
Mission and Ministry trips are extended service trips through which students gain a deeper understanding of the College's mission—to foster an understanding of our common humanity, a commitment to human dignity, and a full appreciation of our obligations to each other. During these trips, students gain hands-on service experience and immerse themselves in new cultures, learning to see the world through different vantage points and engaging in meaningful work that prepares them for life.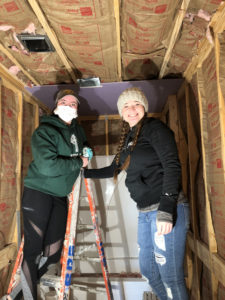 In early January, Kathleen Stack '21 and Olivia Schmutz '21 joined Associate Director for Campus Ministry Kathryn O'Loughlin on a Mission and Ministry trip to rebuild homes throughout the Lower Ninth Ward neighborhood of New Orleans. More than a decade after Hurricane Katrina, many families still do not have the funds or resources necessary to rebuild their homes. Annually, Mount volunteers work with the Sisters of Charity Federation and SBP (formerly the St. Bernard Project) to continue to support relief and recovery efforts for these families.
After returning from New Orleans, Ms. O'Loughlin set out to West Virginia with another group of Leaders in Service, including Shannon Wilson '18, Jonathan Ramirez '18, Nicole Quaranto '18, Lissette Rivera '18, Coleen Hennig '18, Kayla Ortiz '19, Jennifer Puac '21, Olivia Hilliard '21, Katherine Coronel '21, Khadiga Zagha '21, and Tim Nagy, Graduate Assistant for the Office of Campus Ministry. The group spent a week living and serving at Bethlehem Farm in Appalachia, where they experienced community, simplicity, prayer, and service, while learning more about the local community's sustainable living and solar initiatives. Students also conducted home rehabilitation work, such as roofing, painting, and carpentry.
And service efforts weren't only coordinated stateside—five senior nursing students traveled abroad to rural areas of Guatemala to assist at multiple health clinics created by the Sisters of Charity. Olivia O'Neill '18, Sirinda Arturi '18, Laura Spence '18, Victoria Burel '18, and Leanna Ippoliti '18 traveled to the Sololá region of Guatemala to respond to the needs of women and children, while learning more about the history of the Guatemalan people as well as their current medical needs. The students were guided by Sr. Ceil Harriendorf, S.C., Sr. Marie Tolle, S.C., and Dr. Jose Miguel, an Associate of Charity who works in the clinics alongside medical students from the University of Guatemala City.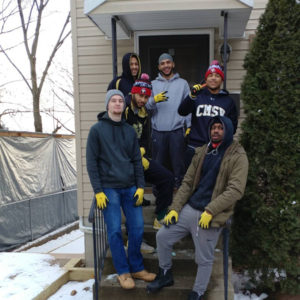 Winter break concluded with a local service trip across the Hudson River, coordinated by the Department of Athletics and Recreation. Student athletes from the Men's Basketball varsity and JV teams, including Andrew Curiel '18, Matthew Sowah '18, Ammad Alkhulaidi '18, Jose Maestre '18, Francisco Zeno '18, Nicholas Carbone '18, Mike Mulligan '18, Ryan Fraser '18, Brian Brooks '20, Jason Barrera '19, Makai Johnson '21, Vinny Tavella '21, Alex Medina '20, David Collins '20, and Ismaila Mariko '21 joined Men's Basketball Head Coach James Mooney and Assistant Coach Michael McClendon as they traveled to Paterson, New Jersey to rebuild homes with Habitat for Humanity.
"When I met with Campus Ministry I wanted to find a community service project that would give our players an unique experience, while also bonding the team closer together," said Coach Mooney. "We immediately jumped at the opportunity to volunteer with Habitat for Humanity and couldn't have been happier to do it. It was such a great experience that included a lot of sweat, labor, and laughter, but it opened up our team's eyes, minds, and hearts, which helped give our players a greater appreciation for the many blessings they have in their lives. The Paterson Habitat for Humanity is a project that we intend on doing each and every year."
"'We are all in this together' is one of the mantras of our office," continued Mr. Shields. "And each intercession continues to offer valuable space for our students to examine how they are becoming servant leaders in a global community beyond the walls of the classroom."
Learn more about the Mount's volunteer service opportunities.
About the College of Mount Saint Vincent
Founded in 1847 by the Sisters of Charity, the College of Mount Saint Vincent offers nationally recognized liberal arts education and a select array of professional fields of study on a landmark campus overlooking the Hudson River. Committed to the education of the whole person, and enriched by the unparalleled cultural, educational, and career opportunities of New York City, the College equips students with the knowledge, skills, and experiences necessary for lives of professional accomplishment, service, and leadership in the 21st century.