Taking Center Stage
9/11/2023
Faculty Spotlight: Dr. Crownover's One Act Play Selected for Staged Reading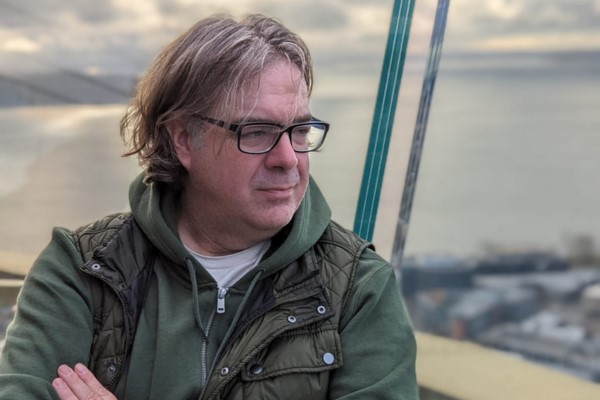 Move over, John Patrick Shanley, there's a new playwright in town:
The Mount's very own Associate Professor of Communication Brad Crownover has been selected as one of four playwrights to be featured in a performance of staged readings at the Croton Academy of Arts.
Talk about stealing the spotlight!
Dr. Crownover's one act play, "Ginny Wants a Cake," will be read as part of the Actors Conservatory Theatre (ACT) Diverse Voices Staged Reading Series. The short works of three other local playwrights will be featured—all focusing on the diverse voices of the community. The performances will be directed by Julia LaVerde and Joseph Riedel.
"It means so much to me that the Actors Conservatory Theatre chose my play for inclusion in its Diverse Voices Staged Reading Series," said Dr. Crownover. "For over 45 years, the ACT has been providing high quality theatre in Westchester County and creating opportunities for artists of all ages to make and produce work."
"Ginny Wants a Cake" tells the story of little Ginny. It's her 12th birthday and, to celebrate, her parents have stopped by the town's only bakery to order her favorite cake with rainbows and unicorns. The only problem is these designs are in the bakery proprietress' book of banned cakes, otherwise known as "Gakes"…or, gay cakes. Hosted by Miss Bee Gotten as part of her drag queen story hour, a reenactment of the dramatic tale takes place in a small-town library.
"I wrote this play in response to the recent Supreme Court decision allowing a small business to deny services to members of the LGBTQ+ community over a hypothetical concern that LGBTQ+ identified people might want to use its services," Dr. Crownover added. "I thought about writing it as an American tragedy, but instead went for the not so hypothetical irony."
In addition to his professorship and passion for writing, Dr. Crownover also serves as the Mount's Director for Theatre and Performing Arts Programs. In recent years, he has spent diligent amounts of time helping to establish a minor program in theatre—which has since transformed into a major—and a minor in dance that was recently revived post-COVID.
Performances of this edition of the Diverse Voices Staged Reading Series will be open to the public and take place at 8 PM on Friday, September 22 and Saturday, September 23 at the Croton Academy of Arts. Admission is free, but a suggested donation of $10 is appreciated. To reserve your seats online, please click here.
On behalf of the entire Mount community, we congratulate Dr. Crownover on this achievement, and encourage everyone to attend his performance and support the Actors Conservatory Theatre.
Break a leg!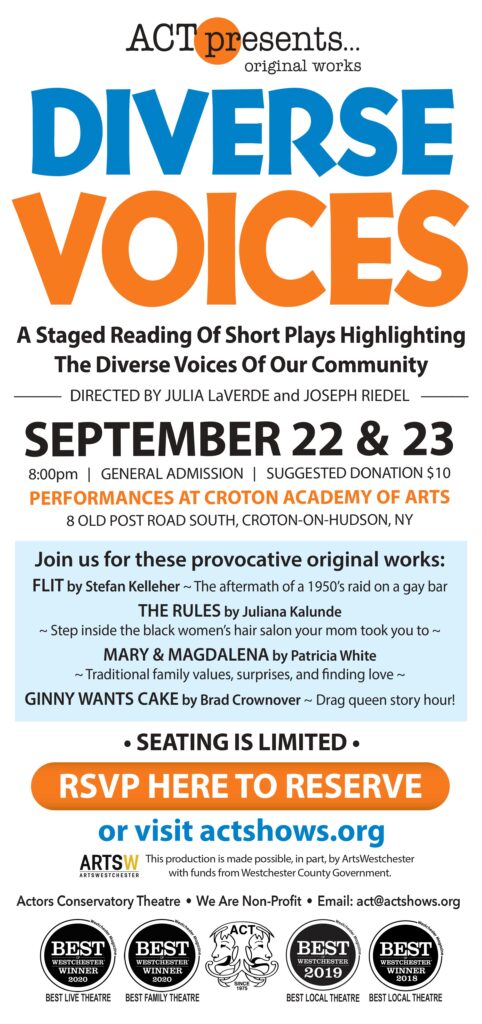 ---
About the College of Mount Saint Vincent
Founded in 1847 by the Sisters of Charity, the College of Mount Saint Vincent offers nationally recognized liberal arts education and a select array of professional fields of study on a landmark campus overlooking the Hudson River. Committed to the education of the whole person, and enriched by the unparalleled cultural, educational and career opportunities of New York City, the College equips students with the knowledge, skills and experiences necessary for lives of achievement, professional accomplishment and leadership in the 21st century.