The Most 'Phintastic Day of the Year Returns
5/12/2023
Here's to you, Class of 2023!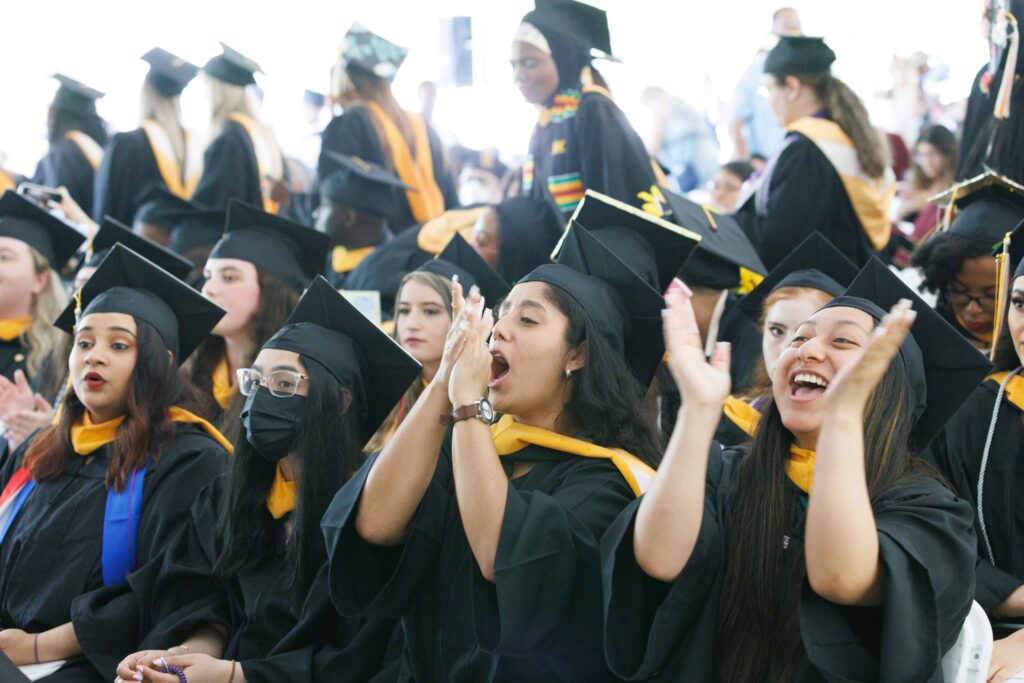 With honor society inductions, the Dolphy athletic awards ceremony, the Student Affairs awards ceremony, end-of-year parties, and a gamut of other celebrations behind us, there's only one more day we're looking forward to here at the Right Place on the River: Commencement!
The 111th Commencement weekend at the College of Mount Saint Vincent will take place from May 18-20.
The Class of 2023 is an especially resilient and adaptable class. With their freshman year cut short due to the peak of the COVID-19 pandemic, these students have spent almost their entire college career in flux as they navigated online learning, social distancing, and reduced capacities. Luckily, with the worst of the pandemic behind us, we can properly celebrate their accomplishments in person under the College's iconic waterfront tent!
Our upcoming Commencement exercises are not only a celebratory occasion for our graduates, but for their families as well. It is the culmination of years of hard work and sacrifice—with many students representing the first in their families to earn a postsecondary education. We always say that all dreams are welcome at the Mount, and we're thrilled to have played a part in helping the Class of 2023 realize theirs.
Our soon-to-be graduates will process from the top of campus down to the Great Lawn, making their way into the tent to join families, friends, classmates, professors, and other attendees as they receive their diplomas, turn their tassels, and officially become College of Mount Saint Vincent alumnae/i.
—
Meet Our Commencement Speaker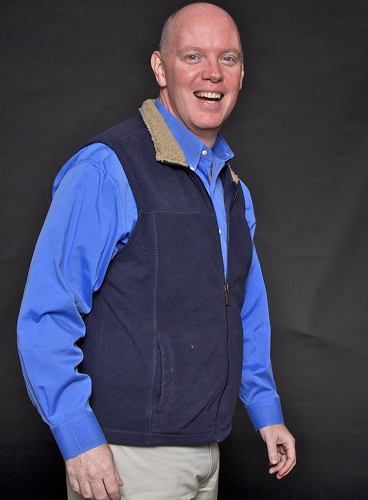 This year, we are eager to welcome Kevin Ryan, recently retired president of Covenant House International, as the 2023 Commencement speaker. Under Kevin's leadership, Covenant House—the largest charity in the hemisphere serving tens of thousands of children and youth facing homelessness—saw the largest period of expansion, renovation, and renewal in its history and now stretches across 34 cities in six countries.
"We are called to be icons of God's love in the world," is Kevin's perpetual refrain, having urged political, religious, and business leaders to help Covenant House open doors for the lonely young.
In 2013, Kevin co-founded the Stage and Screen Sleep Out to support Covenant House's emergency shelter programs. He also created Half Zip Productions in 2022 to produce theatre that inspires young people to purse their dreams. Earlier this month he was nominated for four 2023 Tony Awards for producing the Broadway revival of Into the Woods starring Sara Bareilles and co-producing revivals of The Piano Lesson by August Wilson, The Sign in Sidney Brustein's Window by Lorraine Hansberry, and Parade by Alfred Uhry and Jason Robert Browne. He also produced Adrienne Kennedy's Ohio State Murders which earned Audra McDonald a 2023 Tony Award nomination for Best Actress in a Play.
"Kevin is a dear old friend and I am delighted that he was selected as this year's Commencement speaker," noted Maureen Henegan '78, member of the College's Board of Trustees. "He has been a champion of change in the lives of countless young people who have experienced the adversities of homelessness. It is fitting that the Mount is honoring his dedication and achievements in the service of youth who are at that critical point when their lives can go in very different directions—a mission so in line with that of both the Mount and the Sisters of Charity—in this, our 175th Anniversary year of putting goodness, discipline, and knowledge in action."
The College will confer upon Kevin an honorary Doctor of Humane Letters, honoris causa. Looking toward the future, Kevin's ultimate hope is that the work continued at Covenant House will one day not be necessary. He has played a key role in solving the problem of youth homelessness—by looking at where this population of youth needs assistance and responding to them with open arms, minds, and hearts.
"Kevin has been an invaluable partner of both the College and, particularly, the Mott Street Scholarship Program," said Lynne Bongiovanni, Provost and Dean of the College. "His efforts to help young people not only find shelter and stability, but to identify and follow their dreams through the benefits of higher education has been remarkable, and we are proud to be able to confer upon him an honorary degree for his decades of dedicated work."
The Mott Street Scholarship Program, named in honor of the Sisters of Charity of New York's first ministry—the Roman Catholic Orphan Asylum, established in 1817 on the corner of Prince and Mott Streets in New York City—is a direct extension of the Sisters' mission in the Vincentian/Setonian tradition, where every student has the opportunity to receive a transformative, well-rounded education, regardless of family or financial means. Kevin and his team at Covenant House New York were one of the College's first partners in the program—helping to identify young people who were academically and emotionally ready for college.
"The Mott Street Scholarship Program is unique to the Mount and is a lived expression of our mission and values," explained Susan R. Burns, President of the College. "No other institution in the nation has a comprehensive program that supports the holistic needs of students overcoming the battle of housing insecurity. The Mount is dedicated to serving these adolescents by affording them the opportunity to earn a degree and launch their careers."
To add to his list of accolades, Kevin was the first public Child Advocate and the first Commissioner of Children and Families in New Jersey. He also served as a member of President Barack Obama's Advisory Council on Faith-based and Neighborhood Partnerships; an advisor to Major League Baseball on human trafficking; Commissioner of the New Jersey Department of Human Services; and has been appointed by federal judges across the United States to monitor efforts to reform child welfare systems.
We're proud to be able to honor Kevin and his remarkable accomplishments at Commencement this year and look forward to his address to our graduates.
—
Schedule of Events
There are so many exciting events about to take place! Take a peek at the Commencement activities below:
Thursday, May 18
Final Bow: Grace Plaza | 4 PM
Friday, May 19
President's Farewell Picnic: Grace Plaza | 12:15 PM
Baccalaureate Mass and Hooding Ceremony: Chapel | 4 PM | Watch live!
Reception: Blue Room | 5:30 PM
Honors Convocation: Chapel | 6:15 PM | Watch live!
Saturday, May 20
Commencement: Great Lawn | 10 AM | Watch live!
Final Bow and the President's Farewell Picnic are reserved only for graduating students, as well as faculty, staff, and administrators—all other Commencement events are open to students and their families. Please note that seating for all events is on a first-come, first-served basis—saving seats will not be allowed.
Tickets are not required for any of this year's events. On Saturday morning, guests may enter the tent beginning at 8:30 AM. Please be sure to obey all vehicle and pedestrian traffic regulations set in place by the Office of Campus Safety and Security.
We look forward welcoming community members from near and far to the Right Place on the River to cheer on our graduates as they celebrate such a 'phinomenal achievement. Need directions to the Mount? Check them out here.
Unable to make it to campus? Don't worry!
Commencement weekend celebrations will be livestreamed for those who cannot attend. You may access specific livestream sessions in the schedule above, or visit our College of Mount Saint Vincent livestream page to explore live and upcoming events. And don't forget to follow us on social media @mountstvincent as we share some behind-the-scenes snapshots of the events!
—
Looking for additional information on Commencement? Check out our FAQs! Still have questions? Please email studentaffairs@mountsaintvincent.edu.
We couldn't be happier to come together to cheer for the white and the gold with the Class of 2023—congratulations!
---
About the College of Mount Saint Vincent
Founded in 1847 by the Sisters of Charity, the College of Mount Saint Vincent offers nationally recognized liberal arts education and a select array of professional fields of study on a landmark campus overlooking the Hudson River. Committed to the education of the whole person, and enriched by the unparalleled cultural, educational and career opportunities of New York City, the College equips students with the knowledge, skills and experiences necessary for lives of achievement, professional accomplishment and leadership in the 21st century.