The Streak Continues
6/27/2023
Another Year, Another Badge: Mount Receives Endorsement for 'Phinomenal Academic and Career Development Programs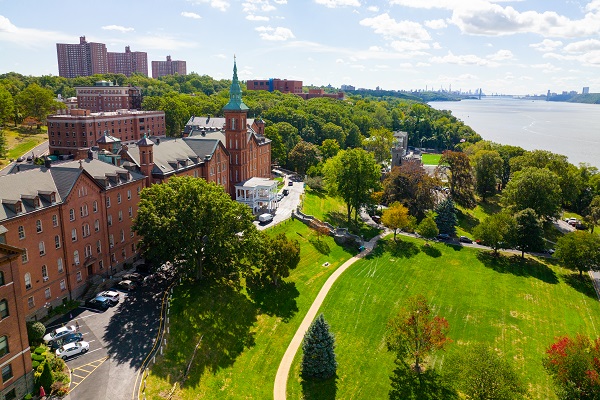 The recognition just keeps on coming, and nothing can stop the Mount's climb to the top as one of the best schools in the region, state, and nation.
For the eighth year in a row (but who's counting?!), Mount Saint Vincent has been named a College of Distinction—this time for the 2023-2024 academic year.
But wait! There's more!
Not only was the Mount recognized for its commitment to providing a high-quality undergraduate education that focuses on hands-on learning, strong student-teacher relationships, a vibrant campus life, and successful post-graduate outcomes, it also earned endorsements from Colleges of Distinction in six (count 'em: six!) additional categories: Catholic, New York, Business, Education, Nursing, and Career Development.
If you didn't believe it yet, then now you should: they don't call us the Right Place on the River for nothing.
"We believe that engaged students are successful students," said Tyson Schritter, Chief Operating Officer at Colleges of Distinction." And the College of Mount Saint Vincent's dedication to experiential learning shows us that each of its students has the opportunity to play an active role in their education."
Colleges of Distinction's selection process comprises a sequence of in-depth research and detailed interviews with each school, accepting only those that exhibit strength in the Four Distinctions: Engaged Students, Great Teaching, a Vibrant Community, and Successful Outcomes. This evaluation process differs from those of popular college rankings publications, whose formulas grade institutions based on things like faculty salaries, endowment size, and peer opinion. As a College of Distinction, the Mount has not only shown excellence in each of the Four Distinctions—but it has excelled—providing its students with a well-rounded, mission-focused education that prepares them to launch their careers and beyond.
"We don't rank our schools," Tyson continued. "Every student has individual needs and flourishes in a specific environment. We prefer to focus on the innovative ways that colleges all around the country are providing an enriching undergraduate experience."
Our recognition positions us as a leading institution in New York State—not just among private, Catholic colleges, but as a competitor within the larger sphere of higher education. With a rich history of providing a well-rounded education that expands far beyond just knowledge, skills, and preparation for work for over 175 years, it's no wonder the College receives such prestigious endorsements year after year.
"The Mount's commitment to authentic inclusivity and the Catholic Intellectual Tradition, coupled with its faithfulness to service and spirituality in the Vincentian and Setonian traditions, sets us apart as a place where students come to not only learn, but lead, serve, and grow," said College President Susan R. Burns. "Learning from the example of our founders, the Sisters of Charity of New York, Mount students are rooted in the qualities of goodness, discipline, and knowledge—which raises them up for success both within the classroom and beyond it."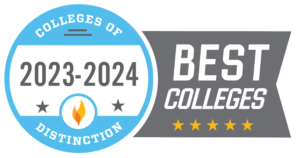 As for our recognition in the Career Development category, there's no surprise there: our premier Oxley Integrated Advising Program offers comprehensive academic and career advising to all undergraduate students.
Oxley advisors help students turn their passion into prospective—and then turn that prospective into a profession.
Whether prospective and incoming students arrive at the Mount thinking they know exactly what they want to be or not, Oxley advisors help them build the skills—and the plan—needed to discover their best academic and professional options. Support from the Oxley team begins on students' very first day on campus and continues all the way up to the moment they graduate. Together, students, advisors, and professors will work to identify strengths and interests, explore unfamiliar ideas, and equip students for success in any field.
In our ever-fluctuating global economy, students are pursuing a college degree with the expectation that it will help them launch a career they are passionate about. And while earning a bachelor's degree is a great start, there are many other things colleges can provide their students with a significant advantage in the job market. Mount Saint Vincent's commitment to career development confirms that our career services go above and beyond the norm, supporting students with comprehensive four-year plans, personalized advising, and a transition into post-graduation life with confidence.
And don't worry: we haven't forgotten about our awards in Business, Education, and Nursing!
The Mount maintains a vibrant culture of diversity, equity, and inclusivity—which extends into each of our most rigorous academic programs.
Colleges of Distinction has a history of highlighting schools whose undergraduate experiences dive deep into a philosophy of well-rounded, individualized engagement. Our business students are engaged in active learning and classes facilitate their development of analytical, critical thinking, communication, and problem-solving skills. Students studying education—whether it be on the early childhood, childhood, adolescent, special education, or TESOL level—immerse themselves in field placements among the New York City Department of Education and constantly develop new and unique ways to present opportune learning. And we can't forget about our stellar nursing curriculum, where small classes and clinical rotations at some of the nation's leading hospitals inspire students to use what they learn to plan competent, effective, and evidence-based nursing care.
"Every single one of our undergraduate programs offers a multidisciplinary approach to learning through the liberal arts," Dr. Burns continued. "We're proud to be recognized for our leadership in the fields of business, education, and nursing, but I invite prospective students and their families to explore all of our programs to find the right fit for you here at the Right Place on the River."
There's no doubt the Mount will continue its climb to the top as we continue to develop and expand our educational and co-curricular offerings. By putting practical experience and high-impact learning techniques into action, we're meeting students when, where, and how they need us—always.
The good work will only continue from here and (we hope) the badges will keep on coming.
To view the Mount's profile or to find out more information about our recognition, visit our Colleges of Distinction webpage.
---
About Colleges of Distinction
Since 2000, Colleges of Distinction has been committed to honoring schools with a dedicated focus on the undergraduate experience. Its website provides dynamic college profiles, customized tools, and resources for students, parents, and high school counselors. For more information, and to learn how to become a College of Distinction, visit collegesofdistinction.com.
About the College of Mount Saint Vincent
Founded in 1847 by the Sisters of Charity, the College of Mount Saint Vincent offers nationally recognized liberal arts education and a select array of professional fields of study on a landmark campus overlooking the Hudson River. Committed to the education of the whole person, and enriched by the unparalleled cultural, educational and career opportunities of New York City, the College equips students with the knowledge, skills and experiences necessary for lives of achievement, professional accomplishment and leadership in the 21st century.