COVID-19 Campus Updates
Screening Protocol
The College of Mount Saint Vincent requires all students, employees, and visitors to be fully vaccinated against COVID-19.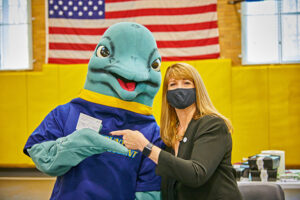 All employees, students, and visitors of the College of Mount Saint Vincent must show proof of COVID-19 vaccination records to enter campus. We ask that each member of our community be prepared to show proper documentation upon arrival at the College's main security gate. Failure to verify your vaccination status will result in the denial of entry to campus.
There are a few ways to show you are vaccinated, all of which will be accepted:
Mount ID (please ensure you have uploaded your CDC COVID-19 Vaccination Record card to Self-Service)
CDC COVID-19 Vaccination Record card (a photo or photocopy of this card is acceptable)
NYC Vaccination Record or other official immunization record from your healthcare provider (a photo or photocopy of this card is acceptable)
In its ongoing effort to mitigate the impact of COVID-19 and to align with the guidance from the Centers for Disease Control and Prevention (CDC), Mount Saint Vincent also encourages the proper use of masks by all individuals, regardless of vaccination status, when indoors in designated public areas.
---
Vaccination Requirements
All College event attendees (age 5 and older) are required to show proof of vaccination, authorized by the FDA or WHO, when entering campus.
If a participant cannot provide the proper documentation at the College's main security gate booth, they will not be allowed on campus. Documentation showing a negative COVID-19 test does not enable a participant to enter the campus or attend any events.
Children ages 2 years to 4 years and 11 months old who are not vaccinated are required to wear a face covering (mask) at all times on campus and in indoor facilities. If the child is participating in a performance or athletic function, they must show proof of a negative PCR test with 72 hours of the event to the guard(s) at the campus' main gate of the campus.
All guests/participants who are 5 years and older, who receive an "exempt" waiver, and are not vaccinated are not allowed in any of the indoor facilities, which include the Hudson Heights Cafeteria and the Peter Jay Sharp Athletic and Recreation Center.
---
Recent Updates
The College is lifting mask requirements for individuals who are fully vaccinated effective immediately.
This news comes following Governor Hochul's announcement, which aims to keep New York safe, open, and moving forward.
Nearly 100% of the College community is vaccinated against COVID-19, compliance with testing has been exceptional overall, and anyone looking around our buildings would show near-perfect masking rates.
Though the College has lifted its mandate for public access spaces on campus—including hallways, classrooms, and public areas—masks remain a critical tool to fight the spread of COVID-19. Continue wearing masks or face coverings to protect others.
Per the CDC, as we implement these changes in protocol for vaccinated individuals, we will still require those who are not vaccinated or have medical or religious exemptions to wear masks indoors, socially distance, and test to ensure their health and safety. Additionally, the College will continue to follow the latest CDC guidance on isolation and quarantine—individuals with COVID-19 should isolate for 5 days and if they are asymptomatic or their symptoms are resolving (without fever for 24 hours), follow that with 5 days of wearing a mask when around others to minimize the risk of infecting people they encounter.
Our ability to relax our protocols also depends on the continued increase in members of our community who are fully vaccinated—and boosted—against COVID-19. We will continue to update our community as we monitor the guidance offered by the CDC for Institutions of Higher Education, New York State, and New York City regarding these ever-changing dynamics.