A Semester Abroad: Learning and Serving in Peru
1/26/2018
Riverdale, N.Y. – Last semester, Leslie Peralta '19 spent nearly five months studying and serving abroad. A recipient of the Benjamin A. Gilman International Scholarship, Ms. Peralta was among 1,000 American undergraduate students from 386 colleges and universities across the U.S. who won the prestigious scholarship.
Ms. Peralta, a double major in psychology and Spanish with a minor in sociology, used her scholarship to travel to Cusco, Peru through IPSL.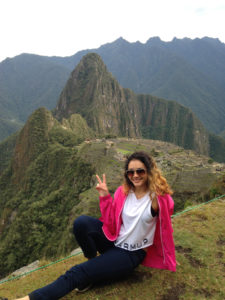 "I was so excited to travel to Cusco to combine a culturally immersive learning experience with service," said Ms. Peralta. "Breaking out of my comfort zone and experiencing new cultures, foods, and music, while further developing my Spanish, was a once-in-a-lifetime experience."
During her time abroad, she took three Spanish courses in language, human rights, and environmental sustainability, as well as two sociological courses based on service and social activism.
"My courses were mainly related to the country of Peru, such as its biodiversity and environmental impact, but I was also able to learn about natural healing and medicine," she said. "I was even able to meet a shaman, a healer, and experienced a ceremony for spiritual transformation honoring ancient healing techniques in Quechua, the indigenous language of the Incas."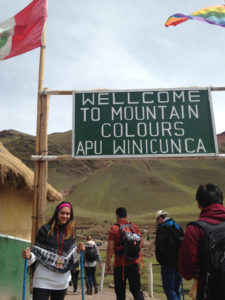 In addition to her studies, Ms. Peralta had plenty of opportunities to explore her passions outside the classroom. Whenever she had the chance, she'd take weekend trips or explore historic sites such as Machu Picchu and the Sacred Valley in Peru's Andean highlands. And she even picked up a part-time job as an English language tutor at a local school, which she credits with helping her learn more patience.
But she also had the opportunity to imbue her experiences with meaningful work. Service was a major aspect during her time abroad.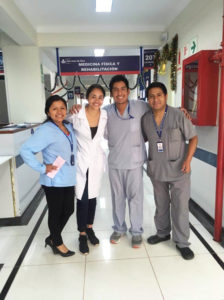 With plans to pursue a graduate degree in occupational therapy after she graduates from the Mount, she was excited for the opportunity to serve in a Peruvian clinic, providing care, education, therapy, and counselling to hospitalized children—ranging from infants to young adults. "Helping individuals from such an unfamiliar culture has prepared me for the connections I will have with patients in the future."
Now that she's back in New York, Ms. Peralta is excited to share her experiences and hopes to inspire other students to go abroad and learn about new ways of living.
"You have to study abroad to truly understand what I experienced," she said. "This trip changed my life. I would have never understood the culture of a place like Peru, but now I do. I even know how to make traditional ceviche—and my mom tells me I've picked up a Peruvian accent! You'll only know how it feels if you go."
She encourages any student who is interested in learning more about her time abroad or the Gilman Scholarship process to reach out to her directly. For more information, please contact her at lperalta.student@mountsaintvincent.edu.
Ms. Peralta was one of two Mount students to win a Benjamin A. Gilman Scholarship for the Fall 2017 semester. Llocata "Jojo" Duran '20 also received a Gilman Scholarship and traveled to Guayaquil, Ecuador.
About the Benjamin A. Gilman Scholarship Program
The Benjamin A. Gilman Scholarship Program, sponsored by the U.S. Department of State's Bureau of Educational and Cultural Affairs, aims to diversify the students who study and intern abroad, as well as the countries and regions where they travel. Scholarship recipients have the opportunity to gain a better understanding of other cultures, countries, languages, and economies—making them better prepared to assume leadership roles within government and the private sector.
About the College of Mount Saint Vincent
Founded in 1847 by the Sisters of Charity, the College of Mount Saint Vincent offers nationally recognized liberal arts education and a select array of professional fields of study on a landmark campus overlooking the Hudson River. Committed to the education of the whole person, and enriched by the unparalleled cultural, educational, and career opportunities of New York City, the College equips students with the knowledge, skills, and experiences necessary for lives of professional accomplishment, service, and leadership in the 21st century.