There and Back: a Semester in the Middle of the World
3/13/2018
Riverdale, NY – Last semester, Llocasta "Jojo" Duran '20 spent four months studying and serving abroad in Guayaquil, Ecuador. Eager to travel internationally, Ms. Duran turned to the Benjamin A. Gilman International Scholarship program for assistance in making this dream a reality.
Unsure that her application would be selected from the pool of 3,000 applicants, she was overjoyed when she was named among the 1,000 undergraduate students nationwide who won the prestigious scholarship.
"I felt like I won the lottery," she said.
The first in her family to travel abroad, Ms. Duran jumped at the opportunity to study in Ecuador. "When you see the sunset from a different place, everything changes," she said. "Although New York City is my home, a place where all kinds of people from diverse backgrounds live, I think you can learn more about the world and yourself when you dive into new experiences."
During her time in Guayaquil, Ms. Duran took a mix of sociology and business courses. Outside the classroom, she worked with Fundación Gracias Maria, an educational center for children, where she taught English and prepared lesson plans for children aged seven through 12.
"I gained a new perspective on working with children, especially those with special needs," said Ms. Duran.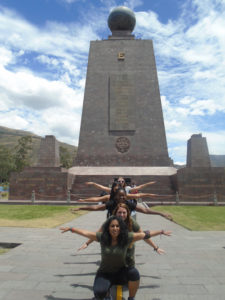 When she was not in class or volunteering, Ms. Duran explored Ecuador with other international students, visiting landmarks such as Mitad del Mundo or "Middle of the World"—a spot where the equator passes through the country, Parque de las Iguanas—a historic park with iguanas roaming freely, and Montañita—a village on Ecuador's Santa Elena Peninsula. She also spent her time advocating for ocean conservancy by cleaning up a beach near Cabalonga, and during her last week in Ecuador she made signs to prevent littering and trespassing on the beach.
"It's great to be able to travel with other international students who are going through the same experiences as I am," she said. "I have made friendships and have created memories that will last a lifetime."
After she graduates from the Mount, Ms. Duran plans to continue traveling internationally to teach English to children.
"I would have never thought I'd have the opportunity to travel and serve abroad. This experience has made me realize that there is more to life than the four walls of my dorm."
Ms. Duran was one of two Mount students to win a Benjamin A. Gilman Scholarship for the Fall 2017 semester. Leslie Peralta '19 also received a Gilman Scholarship and traveled to Cusco, Peru.
—Katherine Perez '19
About the Benjamin A. Gilman Scholarship Program
The Benjamin A. Gilman Scholarship Program, sponsored by the U.S. Department of State's Bureau of Educational and Cultural Affairs, aims to diversify the students who study and intern abroad, as well as the countries and regions where they travel. Scholarship recipients have the opportunity to gain a better understanding of other cultures, countries, languages, and economies—making them better prepared to assume leadership roles within government and the private sector.
About the College of Mount Saint Vincent
Founded in 1847 by the Sisters of Charity, the College of Mount Saint Vincent offers nationally recognized liberal arts education and a select array of professional fields of study on a landmark campus overlooking the Hudson River. Committed to the education of the whole person, and enriched by the unparalleled cultural, educational, and career opportunities of New York City, the College equips students with the knowledge, skills, and experiences necessary for lives of professional accomplishment, service, and leadership in the 21st century.