Rize to the Top
3/13/2023
Mount Launches New Classes Through Course Sharing Partnership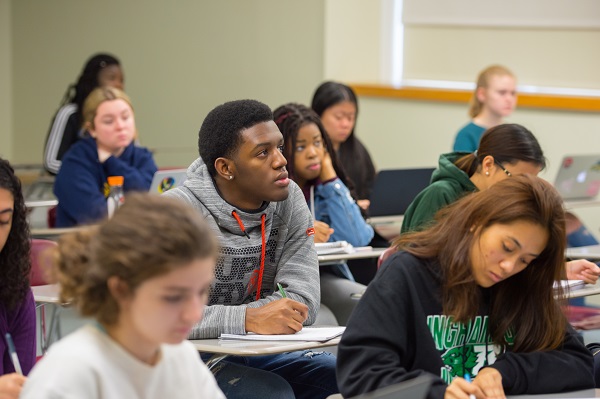 An English major with a minor in computer science. A business major concentrating in cybersecurity. A psychology major with a minor in web design.
All interesting combinations of fields of study—don't you agree?
Would you be surprised to find out that there are Mount Saint Vincent students enrolled in these exact degree pathways?
Thanks to course sharing—a relatively new academic innovation—small liberal arts colleges around the nation are able to partner with each other to bring desirable programs to interested students across the disciplines. The Mount is just one of those colleges diving into course sharing programs thanks to a new partnership with the Lower Cost Models for Independent Colleges Consortium (LCMC) and Rize Education.
As a member of the LCMC, the Mount has gained an innovative partnership with Rize Education—an organization helping institutions across the country add new programs and degrees to their catalogues both quickly and affordably. For any college or university (the Mount included), developing a new major or program can cost millions of dollars and takes years of planning to implement into the curriculum. However, through partnerships with organizations like Rize, small, independent institutions—who are often unable to add new programs at sustaining rates—are able to work together to serve students better and offer the courses they want to take.
"We're proud of our history of delivering a top-notch education in the liberal arts tradition," said Lynne Bongiovanni, PhD, Provost and Dean of the College. "But, we're also listening to the constant industry changes occurring in job markets across the world. As a new member of the LCMC, the Mount is helping to further prepare and propel students into the careers they find appealing—giving them access to a broader array of courses through Rize partnership programs."
And while impacts from the pandemic are still felt across the higher education sphere, the ease, frequency, and flexibility of online delivery modalities has become much more attractive for busy learners. For this reason, courses offered through the LCMC/Rize partnership are delivered in an entirely online format. Institutions that have extra seats in online classes can now offer those seats to students attending other colleges and universities in the LCMC.
The best part?
These courses are taught by stellar faculty members at other institutions and experts in the field—and Mount students get to take advantage of that wealth of knowledge without ever stepping foot outside of Riverdale.
"Students get a Mount degree; they have that inclusive, transformative Mount Saint Vincent experience," said Gabrielle Occhiogrosso, EdD, Dean of the Undergraduate College. "But they get to dive even deeper into their interests and polish their liberal arts resume with career-focused programs."
Even with incredible success rates around the nation, course sharing initiatives have been struck with opposition from those who would like to see the programs put to rest, citing that course and revenue sharing can harm students (but these arguments mostly come from those associated with for-profit colleges and universities—who are not the main players in the course sharing market).
Recently, United States Department of Education officials held a listening session where both advocates and critics of course sharing partnerships voiced their opinions following a recent announcement that the Department would revisit nearly three decades of policy making under Title IV of the Higher Education Act.
The original 1992 legislation regulated "incentive compensation" in programs that are eligible for federal student financial aid. It was modified by 2011 guidance from the Obama administration, which exempted recruiters from that ban if the provider of recruitment and marketing services "bundles" that work with other non-recruitment services (ex. instructional design or support from students). That's how organizations like Rize got their start and how the LCMC was formed.
One of the advocates for expanding course sharing initiatives at that listening session was the Mount's very own Dr. Bongiovanni, who argued that—for small, non-profit schools like the Mount—eliminating the bundled-services exemption from the Higher Education Act would leave them unable to compete with more established national universities.
The Mount serves a disproportionate amount of low-income and working students who wouldn't have the resources to pay for courses up front to build the online programs they students need to continue their education. They also need more access to online courses, as restricting learning traditional in-seat classes makes it nearly impossible for these students to earn a degree.
"Changing this guidance would absolutely negatively affect certain student populations," reiterated Dr. Bongiovanni.
There's a lot more to it, and you can read more from Inside Higher Ed. But, to make a long story short: course sharing is not going anywhere and it's a necessary partnership to help our students thrive.
Current LCMC/Rize offerings at the Mount include minors in both web design and computer science, as well as two concentrations within the business administration degree: digital marketing and cybersecurity and information systems. A brand-new major in healthcare administration is also in the works—stay tuned for more information soon!
These specific programs were carefully selected to compliment the Mount's existing array of majors as a way to both strengthen departments and grow enrollment.
By following market trends in higher education and engaging with cutting-edge collaborations like our membership in the LCMC and partnership with Rize, the Mount is able to continue to find creative solutions to help students not only find jobs, but launch their careers.
---
About the College of Mount Saint Vincent
Founded in 1847 by the Sisters of Charity, the College of Mount Saint Vincent offers nationally recognized liberal arts education and a select array of professional fields of study on a landmark campus overlooking the Hudson River. Committed to the education of the whole person, and enriched by the unparalleled cultural, educational and career opportunities of New York City, the College equips students with the knowledge, skills and experiences necessary for lives of achievement, professional accomplishment and leadership in the 21st century.