Welcome to the 'Phin Fam!
8/9/2023
Come See Why the Right Place on the River Is the Right Fit for You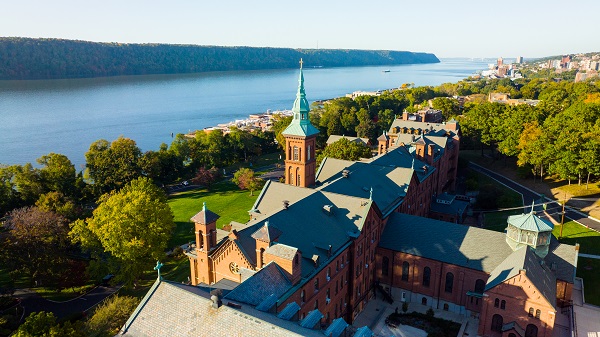 While the dog days of summer aren't leaving anytime soon, the dolphin days of summer are right around the corner—and that means new and returning students will make their way back to Riverdale for the launch of another academic year.
The start of the Fall semester also marks the start of another recruitment season for colleges and universities across the country. Our Mount Saint Vincent admission team will be hitting the road in just a few short weeks, traveling both near and far to introduce high school seniors across the country to the Right Place on the River and help them learn about all the ways the Mount is the right fit for their college journey.
We know it'll take a little exercise in patience while you wait for a Mount Saint Vincent admission counselor to visit your school, but you're in luck! We've put together a little preview of what you can expect when you become the newest member of the 'Phin Fam.
Right Place on the River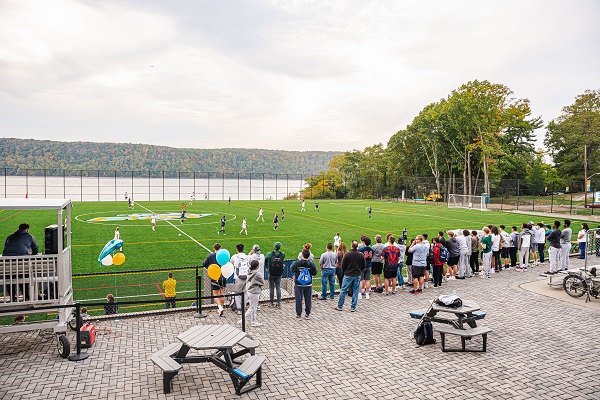 We're not in Nebraska… We're right in the heart of the east coast: NYC! New York is both your classroom and your playground. The Mount's Riverdale 70-acre campus of rolling hills along the Hudson River is just mere minutes from midtown Manhattan, meaning you have endless opportunity at your fingertips. From thousands of internships to the best of Broadway and beyond—you'll never have a reason to say "I'm bored."
Here, you'll receive an education that will prepare you to launch a career, not just find a job. You'll be equipped for success in any field. No matter if you want to study nursing, education, business, communication, psychology, or one of our over 75 areas of study and 16 joint degree programs, you'll find innovative solutions to every problem you encounter.
We have a rich 175-year history that isn't stopping anytime soon! Founded in 1847 by the Sisters of Charity of New York, we're rooted in goodness, discipline, and knowledge. Our graduates become well-rounded individuals ready to make positive change and become conscious contributors to society.
You'll also have the opportunity to become a Leader in Service. Service is not an extracurricular activity at the Mount—it's an essential component of our mission. Our community members serve an average of over 10,000 hours of service each year in areas ranging from hunger and homelessness outreach to youth development and environmental advocacy to elder care. You'll learn to respect the dignity of each and every human being and learn that true charity is an act of love and respect between individuals—something taught to us by Saints Vincent de Paul, Elizabeth Ann Seton, and Louise de Marillac.
The Mount community is 100% inclusive, meaning our students experience different viewpoints every day. Everyone has a home at the Mount. We believe that diversity is an important part of your educational experience. Don't believe us? Just ask U.S. News and World Report or Colleges of Distinction—we're constantly and consistently recognized for our diversity, our commitment to social mobility, and our drive to be one of the best small colleges in the nation.
Outside the Classroom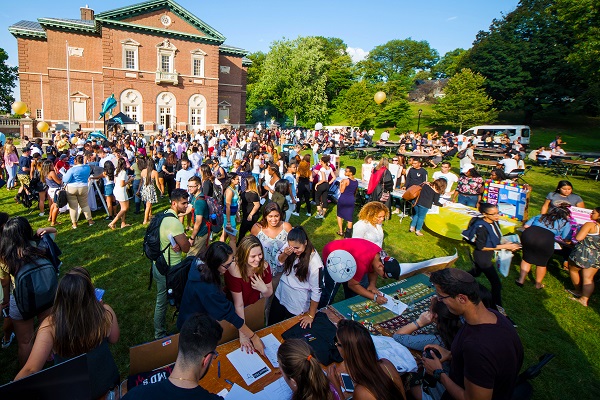 Few institutions offer what Mount Saint Vincent does. Our curriculum utilizes opportunities for students to take their coursework outside the classroom, allowing them to gain practical experience and apply theory in professional settings.
You'll immerse yourself into a diverse and supportive community that changes the way you think and helps you realize what matters most. We offer over 40 different clubs and organizations—ranging from the Mount MDs to FLAVA dance team, and from The Underground literary magazine to the CMSV Players. But don't see what you're looking for? It's easy to start your own club.
Your time at the Mount will also be your opportunity to develop as a leader. There are many ways to hone your leadership skills on and off campus. The strong sense of direction and purpose that carries our students into their careers starts at Mount Saint Vincent. And leadership takes many forms—take your seat on the Student Government Association (SGA), pair up with a faculty mentor and conduct academic research, get matched with a successful alum of the College through the Mount Mentors, or create impactful engagement by joining the Center for Leadership.
Maybe you're thinking that not even NYC is a big enough playground for you—so take your learning across the globe and consider studying abroad! No matter your major, every Mount student has the opportunity to study abroad. Many even imbue their study abroad experiences with meaningful work and service across the globe. We encourage students to live and learn in foreign countries to enhance their development as global citizens through a variety of semester-long and short-term programs. Studying abroad can be one of the most beneficial experiences during your time in college—and we're committed to helping you find an option that works for you.
And don't sleep on our DIII athletic teams! We currently offer a over dozen varsity sports and emphasize athletic participation as an integral part of the overall collegiate experience. We also offer many intramural and club sports that are open to all members of our student body. Our on-campus facilities include a turf athletic field, performance and auxiliary gyms, dance studios, and a 7,500-square-foot fitness center.
Whether you choose to live on campus or commute to Riverdale each day, you'll still get to experience all the Mount has to offer. Resident students live in one of our six residence halls, where you can live in a single, with a roommate, or with a group of fellow students. Living on campus affords many benefits and the Mount is committed to making it a meaningful part of your educational experience. Likewise, commuter students feel right at home on campus, too! There are a number of programs tailored to the needs and schedules of commuter students, including monthly commuter breakfasts and a commuter celebration week. We have a Commuter Assistant program, inviting upperclassmen who are involved in campus life to assist first-year commuter students as they successfully integrate into the Mount community. We also offer two free shuttles, ensuring all students have quick and convenient transportation options.
Partners in Learning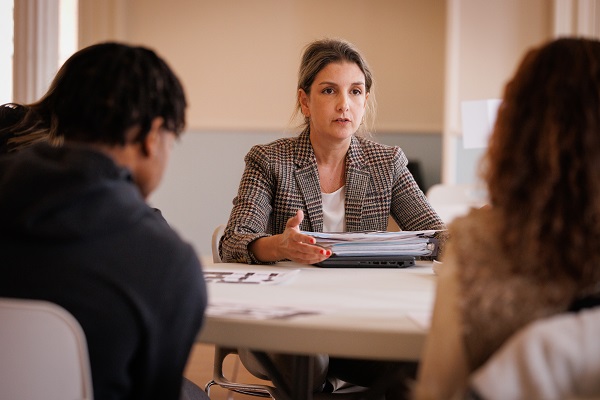 At the Mount, we invite you to turn your passion into perspective, and then turn your perspective into a profession. But don't worry! We're devoted to providing each and every student with the tools and resources they need to find success. Not sure exactly what you want to study? That's okay—we're here to help every step of the way. We meet our students when and where they need us—always.
Our Oxley Integrated Advising Program offers comprehensive academic and career advising to all undergraduate students. Oxley advisors help you build the skills—and the plan—needed to discover your best academic and professional options. Support from advisors on the Oxley team begins from your very first day on campus and continues all the way up to the moment you graduate.
Additionally, you won't find advising at any other college or university like you will at the Mount. We take a holistic approach to guiding you though your college journey. You'll be paired with not one, but two advisors who will work collaboratively and guide you through your four years of study: an Oxley advisor and a faculty advisor. You'll get to know both your advisors personally—they'll help you understand curriculum requirements, explore internships and job and graduate school opportunities, and connect you to the greater Mount community and beyond.
No matter your high school experience, we'll set you up for success in the classroom. The Mount opens doors for everyone, including students of great promise who may have a history of academic vulnerabilities. Our combination of challenge and support in our HEOP, TRiO, and MAP programs will create real opportunity for your future life and career. Whether you need extra support with your coursework, a push to dive into a new direction, help getting acclimated to college life, or career advice, our Mount Pathways Programs are here to help you navigate your college journey with ease.
Or maybe you're looking to further your academic rigor? Look into our Honors Program, which offers an exceptional and unique approach to the College's core curriculum for students representing he top 5% of their class. You'll take interdisciplinary classes co-taught by two professors—specifically designed for students to develop advanced academic skills. Students have the opportunity to strengthen their intellectual curiosity, creativity, and critical thinking skills through a challenging and socially intimate program of like-minded peers.
Making College Affordable for YOU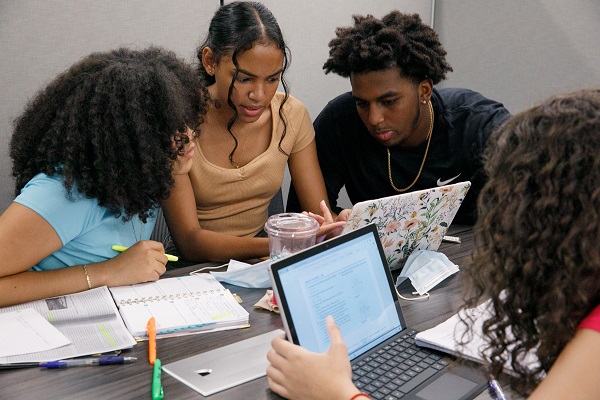 We're committed to showing you that a first-rate private college education is within reach. Students and families need help affording high-quality education, which is why we offer substantial scholarships and aid. 100% of our first-year students receive scholarship aid. Yes, you read that right! Last year, more than $37 million was offered in Mount scholarships and awards.
Our merit scholarships range from $16,000 to $28,000 annually. In addition to merit scholarships, further financial assistance is often awarded to students after completing the Free Application for Federal Student Aid (FAFSA). On average, Mount students who complete a FAFSA earn $9,000 more in need-based scholarship aid than the students who do not.
At the Mount, we're want to make all the benefits of a Mount education affordable for you and your family.
Come Visit Us and Apply!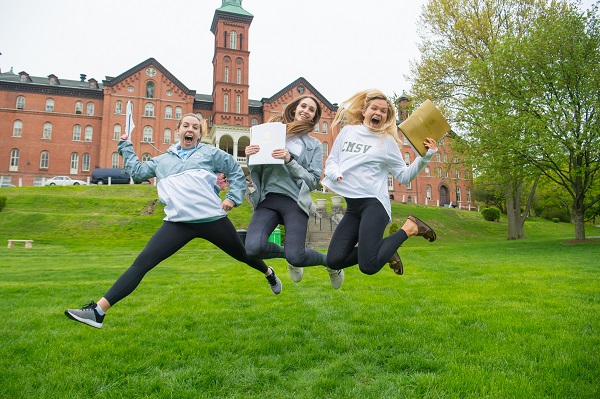 Like what you've been reading and want to come visit? Schedule a campus tour and see what life is like at the Mount while you learn the inside scoop from a current student tour guide.
Can't wait any longer to apply? Our Mount Made Application is now live! Get your application in by December 1 to be considered for early action admission—giving you priority access to scholarships and financial aid.
We can't wait to see you at the Right Place on the River soon. #PhinsUp!
---
About the College of Mount Saint Vincent
Founded in 1847 by the Sisters of Charity, the College of Mount Saint Vincent offers nationally recognized liberal arts education and a select array of professional fields of study on a landmark campus overlooking the Hudson River. Committed to the education of the whole person, and enriched by the unparalleled cultural, educational and career opportunities of New York City, the College equips students with the knowledge, skills and experiences necessary for lives of achievement, professional accomplishment and leadership in the 21st century.