President Susan R. Burns, PhD
Biography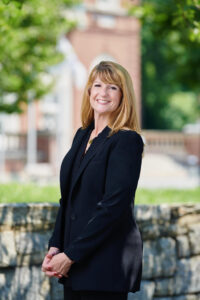 Dr. Susan R. Burns serves as the sixth president of the College of Mount Saint Vincent. Embodying a deep-seated commitment to the liberal arts and its inherent promise to provide access to an authentic, high-quality education to talented students of every background, Dr. Burns has dedicated herself to the common good, Vincentian service, and the Catholic intellectual tradition.
An extraordinarily effective and collaborative leader, Dr. Burns came to the College of Mount Saint Vincent from Clarke University in Dubuque, Iowa, where she served as Vice President for Academic Affairs and Dean of Faculty. Prior to this position, Dr. Burns served as Associate Dean for Academic Affairs at Morningside College. At Morningside, she also taught psychology and statistics, holding the rank of full professor with tenure.
A psychologist, Dr. Burns remains active in her field of study. Her career and scholarly engagements have involved collaboration with colleagues in other disciplines to engage students in research projects resulting in presentations at local, regional, and national conferences, as well as publication in professional outlets. A prominent advocate for student success and undergraduate research, she has sponsored student publications in the Psi Chi Journal and the Journal of Psychological Inquiry.
Dr. Burns is widely published, authoring numerous articles and research papers for peer-reviewed journals, as well as several books and book chapters. She has co-authored a textbook titled Human Relations for the Educator: Meeting the Challenges of Today and Tomorrow, now in a second edition, and she most recently authored a textbook titled Psychology of Sex and Gender, a text designed for courses in gender, gender issues, the psychology of women or men, and sex roles, as well as sociology and anthropology courses on diversity.
The recipient of several academic and leadership awards, Dr. Burns was selected twice for the Morningside College Sharon Walker Faculty Excellence Award, received the American Association of University Women Iowa Chapter Distinguished Faculty Award, and was named the Omicron Delta Kappa Honor Society Faculty Person of the Year. She has also served on many community and professional organizations, including the Association for Psychological Science and the Society for the Teaching of Psychology.
She received her bachelor's and master's degrees in experimental psychology from Emporia State University and her Ph.D. in social/personality psychology with an emphasis in child development from Kansas State University.
Certifications and Memberships
Bronx Chamber of Commerce | Board of Directors
Riverdale Main Street Alliance | Board of Directors
Divine Word College | Board of Trustees
Women's Forum of New York | Member
American Council on Education | Regional Women's Leadership Forum
Harvard Institute for Higher Education | Management Development Program
Teaching of Psychology | Reviewer
Journal of Psychological Inquiry | Managing Editor, 2006-2012
Psi Chi Journal | Consulting Editor, 2004-2010
American Association of University Professors
Association for Psychological Science
Society for the Teaching of Psychology | Division 2 of the American Psychological Association
Phi Kappa Phi National Honor Society | Kansas State University
Psi Chi International Honor Society in Psychology