Kathryn Swintek '74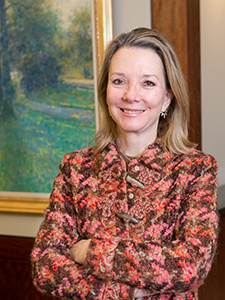 As one of the Mount's most accomplished alumnae, and a generous, loyal benefactor, Kathryn Swintek '74 has become one of the inaugural members of the Centennial Society, a group of donors who have chosen to support their alma mater with a planned gift.
Ms. Swintek is a Managing Partner of Golden Seeds Fund 2 LLC, and Managing Director of Golden Seeds LLC, one the five largest angel investment networks in the U.S. Previously, she served as Head of Leveraged Finance and Global Head of High Yield at BNP Paribas. Ms. Swintek served for 11 years as a Trustee of the College of Mount Saint Vincent. Committed to advancing women's leadership, she is Chair of C200, the leading businesswomen's organization for successful entrepreneurs and C-suite corporate executives (a corporation's most important senior level executives). She is also a director of several private corporations and not-for-profit organizations. We sat down with her recently to find out what impact the Mount had on her success, and why she chose to support the College with a planned gift.
She chose to attend the Mount after having a "most inspiring meeting" with the late Doris Smith, S.C., who was then chair of the Economics Department, and later became president of the Mount. Ms. Swintek studied economics at the College, and was an active member of the campus community, writing a column for the student newspaper, then called The Alembic, and studying abroad during her junior year at the University of Vienna in Austria. She has fond memories of the Mount's "beautiful campus," lasting friendships, and proximity to New York City.
Q: How did your experience at CMSV impact your career and/or life decisions?
A: Studying in Vienna set me on track to a career in international business. I joined the Foreign Credit Department of Irving Trust Company upon graduation, and within three years, I was an officer in the Middle East and North Africa Division, travelling extensively to that region. The great liberal arts education and grounding in economics that I received at CMSV was key to connecting with clients in that region. I was later the company's representative for France, based in Paris. I learned French in three months, and was among a minority of Americans posted there who were fluent and able to participate fully in French life, whether theater, film, dinner parties, or travel throughout France, another important bridge builder to my new client base. The environment at CMSV encouraged scholarship and inquiry, which served me well throughout my career. Three years after my return from Paris, I joined BNP Paribas, to lead their Structured Finance Division in the U.S. I also married a wonderful Frenchman who I met while living in Paris. We're married 26 years now.
Q: What inspires you to be so generous to CMSV and why is that important to you?
A: I am very conscious of the role that CMSV played in my intellectual and spiritual growth. I am keen to help the next generation be exposed to the same opportunities and nurturing environment that I was. All private colleges and universities need support from donations to sustain themselves and grow. I have a strong connection to CMSV and thus choose to support it. The College's motto, "Teach Me Goodness, Discipline, and Knowledge," really spoke to me, and has governed my actions and decisions throughout my life and career.
Q: When you think of CMSV, what key words or phrases come to mind?
A: Sisters of Charity. Beautiful campus. Receptive. Nurturing. Integrity of mission and leadership. Intellectual pursuits have priority. Science Hall. Reputation in the sciences. My economics professor, Dr. Mary Pranzo.
Q: What aspect of your education or involvement with CMSV gives you the most satisfaction?
A: I was very pleased to serve as a Trustee for 11 years and participate in the many growth initiatives undertaken by President Flynn. Currently I am pleased to serve as a Mount Mentor, having helped to found that initiative more than three years ago. The program benefits from the strong leadership of (previous Director of the Mount Mentors Program and Assistant Professor of Sociology) Dr. Kristin Lawler.
Q: What was the single most important consideration in your decision to make a planned gift to CMSV?
A: I have given generously to the College for several years now. Making a planned gift was a way of ensuring financial support when I have passed from this world.
Q: What prompted you to make a planned gift at this particular time?
A: I changed my professional pursuits in 2008 from working as a senior executive at one of the world's largest banks to working in venture capital backing women entrepreneurs and serving as a director on boards of private companies and not-for-profit organizations. In the course of this change, my husband and I reviewed our estate planning, and, as both of us are pleased with the leadership of the College, we decided to be generous to the College and the Sisters of Charity.
Q: What impact do you hope your gift will have on future generations of students?
A: It is my hope that my gift will provide the financial support required to enhance learning opportunities in the field of economics, particularly for female students. Research shows that a still disproportionate share of young women do not choose business as a career. Programs and studies that inspire female students to choose to enter the business world equipped with the critical thinking skills that a CMSV education provides would be wonderful.
The education that students receive at the Mount provides them with a solid foundation for the future. It gives them a context in which to fully participate in society. Even though I was an economics major, I greatly enjoyed my courses in art history and an Independent Study that I completed in Advanced Literature. I routinely visited NYC museums and New York City Public Libraries, reading at one point a first edition book by Washington Irving. Taking advantage of what NYC offered prepared me to take advantage of Vienna and later Paris, and to pursue rich business and personal relationships with people from around the world. I received a rich education at the College, and would love for future students to benefit from the opportunities offered to me.