James J. Fabrizio, Ph.D.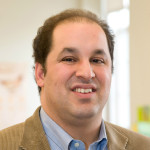 Virginia A. LiVolsi, M.D. Professor in Biology
Post-doctoral training, University of Pennsylvania
Ph.D., St. John's University
B.S., Manhattan College
james.fabrizio@mountsaintvincent.edu
Areas of Interest
Spermatogenesis
Drosophila genetics
Microscopy
Molecular Biology
Dr. Fabrizio's lab seeks to uncover genes involved in the late-stage maturation of spermatozoa in Drosophila. Specifically, since sperm in all animal species occurs within a common cytoplasm, all animals have to resolve individual sperm from this cytoplasm in a process known as spermatid individualization. Indeed, a failure to individualize sperm is the predominant cause of male infertility in humans. Given the genetic similarity (65-70 percent) between Drosophila and humans, we hope our work will shed some light on the molecular mechanisms behind human male fertility.
Dr. Fabrizio received a National Institutes of Health grant for $200,000 as principal investigator. He will be incorporating methods and knowledge of genetics, molecular biology, cell biology, and genomics to study sperm development in the fruit fly, or Drosophila melanogaster.
Courses
BIOL 111 General Biology
BIOL 310/410 Research in Biology
BIOL 321 Molecular Biology
BIOL 302 Developmental Biology
BIOL 217 Genetics
BIOL 331 Cell Biology
Publications
Fabrizio, J. J., Aqeel, N., Cote, J., Estevez, J., Jongoy, M., Mangal, V., Tema, W., Rivera, A., Wnukowski, J., and Bencosme, Y., "mulet (mlt) encodes a tubulin-binding cofactor E-like homolog required for spermatid individualization in Drosophila melanogaster," Fly 6:4, 261-272, 2012
Fabrizio, J. J., Hickey, C. A., Stabrawa, C., Meytes, V., Hutter, J.A., Talbert, C., and Regis, N., "Imp (IGF-II mRNA binding protein) is expressed during spermatogenesis in Drosophila melanogaster," Fly 2:1, 47-52, 2008
Fabrizio, J. J., Boyle, M., and DiNardo, S., "A somatic role for eyes absent (eya) and sine oculis (so) in Drosophila spermatocyte development," Developmental Biology 258: 117–28, 2003
Fabrizio, J. J., Hime, G., Lemmon, S. K., and Bazinet, C., "Genetic dissection of sperm individualization in Drosophila melanogaster," Development 125: 1833–43, 1998