LinDa Saphan, Ph.D.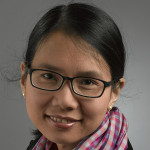 Assistant Professor of Sociology
Ph.D., University of Paris X
Diploma of Advanced Studies, Ecole Normale Supérieure de Paris/EHESS
M.A., Sorbonne-Paris V
License in Sociology, Sorbonne-Paris V
linda.saphan@mountsaintvincent.edu
Areas of Interest
Popular Culture and Media
Qualitative Methods
Urban Sociology/Anthropology
Southeast Asia
As a visual artist, Dr. Saphan's work has been included in several collective exhibitions in Southeast Asia, France, and the United States. She is also the associate producer of the documentary film Don't Think I've Forgotten: Cambodia Lost Rock and Roll released in 2014. Her research endeavors include identity and culture in Southeast Asia, and ethnography. Her research focuses on the ethnicity and gender issues among the Khmer-Americans. She is working on a second book on popular music in Cambodia.
More
Courses 
Culture
Online Research Methods
Introduction to Sociology
NYC Ethnic Communities
Qualitative Research Methods
Reel Cities – Cinematic Urban Experience
The Sacred in the City
Urban Planning Theories
Urban Sociology/Anthropology
Visual Sociology
Professional Affiliations
AIA- CFA Center for Architecture, New York
Alpha Kappa Delta
Urban Affairs Association
Selected Publications
"Cambodian Popular Musical Influences from the 1950s to the Present Day." Book chapter in Asian Popular Music History, edited by Hyunjoon Shin and Keewoong Lee.  Seoul, South Korea: Sungkonghoe University Press, 2017.
"Cambodian Women in Popular Music." In Women's Lives around the World: A Global Encyclopedia. Edited by Susan M. Shaw.  Santa Barbara, CA: ABC-CLIO project, 2017.
"Gendered Modernity in Cambodia: The Rise of Women in the Music Industry." Khmer Scholar Journal, September 2016
LinDa Saphan, Michelle Salas and Rozario Cathleen, "« Bryant Park, New York: Strangers in Public  Spaces." » Streetnotes, September 2016
From Cambodia with Love. Booklet. Atlanta, GA: Dust to Digital, May 2015.
"From Modern Rock to Postmodern Hard Rock: Cambodian Alternative Music Voices."Ethnic Studies Review 35, nos. 1 and 2 (spring 2015): 23–40.
Contributor: "Troubling Borders: An Anthology of Art and Literature by Southeast Asian Women in the Diaspora," eds Isabelle Thuy Pelaud, Lan Duong, Mariam B. Lam, and Kathy L. Nguyen, University of Washington Press, Seattle, 2014
"Norodom Sihanouk and the political agenda of Cambodian Music, 1955-9170," International Institute for Asian Studies, Newsletter 64, Summer 2013
La vie sociale des espaces publics à Phnom Penh, Sarrebuck, Editions Universitaires Européennes, 412 pages, 2010