Alanna Kavanaugh, EdD(c), FNP-BC, MSN, BSN, CCRN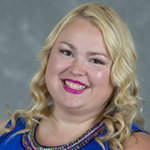 Instructor of Practice of Nursing
Doctoral Candidate, Nursing Education | Columbia University
Master of Science in Nursing, Family Nurse Practitioner | College of Mount Saint Vincent
Bachelor of Science in Nursing | College of Mount Saint Vincent
alanna.kavanaugh@mountsaintvincent.edu
Alanna Kavanaugh is a Board certified Family Nurse Practitioner. She received her master's degree from the College of Mount Saint Vincent. She is currently pursuing her Doctorate of Nursing Education at Columbia University, Teachers College.
Alanna is a Graduate Program Chair and Director of the Family Nurse Practitioner Program at her alma mater, the College of Mount Saint Vincent. Under her leadership, she has restructured the curriculum to improve student outcomes and created several innovative programs to improve student success. Her work improved Board Certification Rates above 90% for first time test takers. Her innovative programs provide a strong clinical foundation for the world's future clinicians and her programs aid in smooth student transition to practice.
Clinically, she practiced at NewYork-Presbyterian/Weill Cornell for 18 years in the Cardiac ICU and Pulmonary Critical Care Division. As a Nurse Practitioner in Pulmonary, she made significant improvements to patient care including her work with oxygen therapy, patient education programs, and support group work. She continues to work closely with the American Lung Association and COPD Advisory Board to educate patients on disease processes, reduction in risk mitigation, and improved quality of life. She serves on the board of the Nurse Practitioner Association of New York and on the Association of Pulmonary Advanced Practice Providers steering committee.
Alanna received grant funding of $50,000 to support a patient education outreach program at Weill Cornell. She developed education material for patient use on pulmonary drug therapies and protocols, airway clearance, smoking cessation program, and invasive pulmonary procedures.
She had the honor of being inducted into Sigma Theta Tau, Eta Sigma chapter in 2007 of which she now serves as the President. She was inducted as a Fellow in 2023 into the Nurse TRUST fellowship program, by the Robert Wood Johnson Nurse Executive Fellow Alumni.
Areas of Interest
Research on improving health inequities in vulnerable populations
Pulmonary therapies, including oxygen therapy, inhalers, and biologics
Observed structured clinical exams to improved clinical competency
Peer mentorship programs to ease transition to practice
Leadership development and peer coaching
Courses
NURS 530 Advanced Health Assessment
NURS 532 Advanced Pharmacophysiology
NURS 506 Advanced Research
NURS 651 Advanced Practicum Seminar I
Recent Presentations
Leadership for the Common Good: Health Equity and Social Justice | October 27, 2022
Nurse Practitioner Association 38th Annual Conference: Pulmonary Bootcamp | October 15, 2022
American Lung Association: COPD Educator Course, Oxygen Therapy | April 27, 2022
Practicing Clinicians Exchange (PCE): Pulmonary Bootcamp: COPD Advanced Management | November 14, 2021
Professional Affiliations
New York State Nurse Practitioner Association
American Academy of Nurse Practitioners
Sigma Theta Tau
American Association of Critical Care Nurses
National Organization of Nurse Practitioner Faculties
American Nurses Association