Meet the Admission Team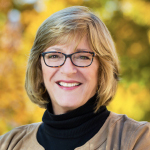 Madeleine Melkonian
Senior Vice President for Admission and External Relations
madeleine.melkonian@mountsaintvincent.edu
(718) 405-3236
Madeleine's tenure at the Mount spans more than a decade. She joined the Mount as Director for Public Relations in 2002, and assumed increasing responsibilities over time. She was promoted to Associate Vice President for Institutional Advancement and College Relations in 2004, Vice President in 2007, Senior Vice President in 2012, and was appointed to her current position in 2015. Prior to joining Mount Saint Vincent, she served as a board member, advocate, and communications and public relations liaison for several health and education non-profit organizations. Previously, she was manager of national policies and procedures at Coopers & Lybrand for six years, and an internal accountant and cost analyst for Irving Trust Company. She received her B.B.A. summa cum laude from Iona College. Madeleine is the founding member of the Windmill Road Audubon Society. Her free time is filled with her family, trips to the beach, movies, cooking, and entertaining.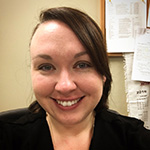 Ellen Lloyd '10
Director for Admission
Office of Professional and Graduate Studies
Graduate and Accelerated Nursing Students
ellen.lloyd@mountsaintvincent.edu
(718) 405-3320
While pursuing her undergraduate degree at the Mount, Ellen worked as an office assistant in Admission and as a student ambassador. Her love of college admissions developed during her time spent in the Office of Admission and working with incoming students and families at admission events. After graduation, she was hired as an information manager and within two years was promoted to Graduate Admission Counselor. This position allowed her to work with the adult population and assist students in returning to school and furthering their education.
Ellen now oversees admission for the Office of Professional and Graduate Studies and recruits students who want to pursue graduate degrees in business, education, nursing, or art therapy/counseling at the Mount. She also talks to prospective students who wish to start careers in nursing by enrolling in the College's Accelerated Nursing program or who want to advance their careers by earning certifications through the Mount's professional programs in Additional Classroom Teaching Certificate in ESOL, Advanced Certificate Program – Family Nurse Practitioner, Applied Behavior Analysis (ABA), and Certified Financial Planning (CFP®). During her time off, she works as a volunteer EMT and enjoys spending time with friends and family.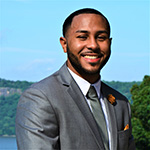 Andrew Curiel '18
Assistant Director for Admission
Athletic Recruit Liaison
Territories: Long Island and Queens
andrew.curiel@mountsaintvincent.edu
(718) 405-3321
Hailing from the Bronx, Andrew is a proud Mount Saint Vincent alum who joined the Admission team in August 2019. He is the co-founder of Be You Stay True, a program that hosts free camps for children who cannot afford basketball camps or leagues, which enables them to participate in youth basketball during the summer. The success and impact of the program that Andrew started with his Mount roommate has even led to a collaboration with Jr. NBA—the official youth basketball program of the NBA—on the Jr. NBA Skills Challenge held at CMSV.
Andrew's favorite college memory is his graduation day, when he saw four years of hard work pay off once he walked across the stage and received his diploma. The sense of pride his mother and grandmother had on their faces made the struggles throughout college worth it. Between graduating from the Mount and returning to work for his alma mater, Andrew traveled to Ireland—his favorite vacation destination—to earn a master's degree in business marketing. His advice for succeeding in college is to make the experience yours by trying new things, meeting new people, and joining clubs and organizations that will all benefit you in the long run.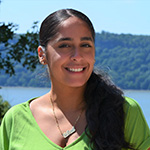 Tatiana Henriquez
Assistant Director for Admission
Admission Recruitment Strategist
Territories: Delaware, Maryland, Washington D.C, Virginia, West Virginia, North Carolina, South Carolina, Georgia and Florida
tatiana.henriquez@mountsaintvincent.edu
(718) 405-3795
A Bronx, NY native, Tatiana joined the Admission team in October 2018. When she is not talking to prospective students about the limitless opportunities they will have at the Mount—in and outside the classroom—she enjoys various activities, including solving Escape the Room mysteries, taking painting classes, going on roller coaster rides at Six Flags, road tripping to new cities, and trying new restaurants. She also enjoys traveling to Saint Martin and Puerto Rico, among other destinations.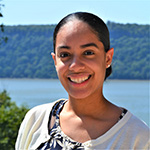 Chabeli Lajara
Assistant Director for Admission
Tour Guide Coordinator
Territories: Manhattan, Staten Island, and Brooklyn
chabeli.lajara@mountsaintvincent.edu
(718) 405-3781
A native of Bronx, NY who lives by Ghandi's quote "be the change you wish to see in the world," Chabeli joined the Admission team in March 2019. Her advice for succeeding in college is to take advantage of all the resources available on campus and to not be afraid to ask questions and seek support. She encourages students to spend their college years learning, growing, and experiencing everything moment by moment.
When she is not talking to prospective students about the Mount's scenic, 70-acre campus overlooking the Hudson River, located in the beautiful Riverdale neighborhood of New York City, she likes to show them how the opportunities the Mount has to offer will support them in landing careers, not just jobs. Outside the office, Chabeli reads, cooks, and spends time with her husband, family, and friends.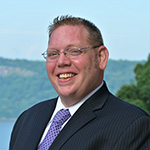 Michael Main
Assistant Director for Admission
Premier Program Liaison
Territories: Upstate New York, including Westchester County; New England Area
michael.main@mountsaintvincent.edu
(718) 405-3221
Originally from Uniondale, NY, Michael joined the Admission team in August 2019. His advice for college students is to take the Mount's numerous opportunities and explore their passions in and outside the classroom through student clubs and organizations on campus, as well as by discovering their neighborhood—New York City—and all its museums, theaters, restaurants, and iconic buildings and institutions. He also encourages students to make friends, memories, and have fun. When he's not working on inspiring prospective students to bring their dreams to the Mount, Michael enjoys spending time with his wife and their two pugs, Lincoln and Theodore, and occasionally traveling to Colorado.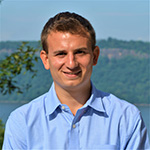 Tyler Margolis
Assistant Director for Admission
Territories: New Jersey and Pennsylvania
tyler.margolis@mountsaintvincent.edu
(718) 405-3734
A New City, NY native, Tyler joined the Admission team in August 2019. His advice for future college students is to try everything. He encourages students to explore the student clubs and organizations the Mount offers and to not only join the ones related to their interests, but to go beyond and try new things. He also thinks it's important to explore a variety of courses outside your major throughout your first few years to determine what you'd like to study going forward. He believes that by taking classes that are not necessarily related to your field of study, you find a valuable way to expand your breadth of knowledge and skills—and discover your best options for the future. When Tyler is not working with prospective students, he likes to root for the Yankees and Giants. He also enjoys going on vacation to South Florida, one of his favorite destinations.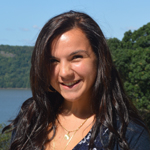 Kelsey Ruzza
Assistant Director for Admission
New York's Higher Educational Opportunity Program (HEOP) Liaison
Territory: Bronx
kelsey.ruzza@mountsaintvincent.edu
(718) 405-3428
Hailing from Schenectady, NY, Kelsey joined the Admission team in August 2017. Her favorite place on campus is the porch in front of Seton Hall. She enjoys the beautiful views of the Mount's campus and the Hudson River, especially when she walks to work in the morning or when she has lunch outside. When Kelsey is not talking to prospective students about the boundless opportunities and the support of the close-knit academic community they will find at Mount Saint Vincent, she enjoys traveling to Turks and Caicos; Kavaje, Albania; Napoli, Italy, and anywhere with a beach and good food.