John McCullagh, Ph.D.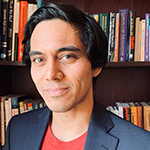 Assistant Professor of Psychology
Ph.D., University of North Dakota
M.S., Radford University
B.S., Texas Lutheran University
john.mccullagh@mountsaintvincent.edu
Areas of Interest
College student persistence and retention
College student mental health and college counseling
Counselor training and clinical supervision
Mental health disparities among racial and ethnic minorities
Courses
CLD 540 Theories of Career Counseling
PSYC 103 Introduction to Psychology I
PSYC 302 Psychological Testing
PSYC 327 Interviewing and Counseling
PSYC 355 Abnormal Psychology
PSYC 347 Personality
PSY 581 Psychological Interviewing and Counseling
Publications
McCullagh, J.A. and Gray, J.S. (2018). Chapter 9: Cognitive-Behavioral Models, Measures, and Treatments for Anxiety Disorders in American Indians and Alaska Natives. In E.C. Chang, C.A. Downey, J.K. Hirch, & E. Yu (Eds.), Cognitive-Behavioral Models, Measures, and Treatments for Depression, Anxiety, and Stress in Ethnic and Racial Minorities.
McCullagh, J.A. and Gray, J.S. (2017). Chapter 7: Ethnic Minority Psychology, Aging, and Caretaking of Family Members, in A. Blume (Ed.). Social Issues in Living Color: Challenges and Solutions from the Perspective of Ethnic Minority Psychology.
Gray, J.S., Peters, W.M.K., and McCullagh, J.A. (2016). Psychological Assessment Considerations for American Indians, Alaska Natives, and Native Hawaiians, in F.T. Leong & Y.S. Park (Eds.), Testing and assessment with persons and communities of Color. Monograph for the Council of National Psychological Associations for the Advancement of Ethnic Minority Interests (CNPAAEMI).
Gray, J.S., McCullagh, J.A. and Petros, T. (2016). Assessment of Anxiety among Northern Plains Indians. American Journal of Orthopsychiatry.86(2), 186-193.
Gray, J.S. and McCullagh, J.A. (2014). Suicide in Indian Country: The Continuing Epidemic in Rural Native American Communities. Journal of Rural Mental Health,38(2), 79-86.
Dr. McCullagh's professional background is in Clinical and Counseling Psychology. He has worked as a mental health therapist across a number of clinical settings. These include community mental health centers, behavioral health / integrated health care settings, an inpatient hospital unit, training clinics, a career counseling center, and university counseling centers. Dr. McCullagh has two primary clinical specializations: the first is focused on college student mental health, and the second is focused on the training and clinical supervision of counselor trainees.
Dr. McCullagh's research reflects his background in mental health counseling as well as his interest in understanding the factors related to college student success. He has published articles and book chapters focusing on such subjects as adapting mental health assessment and treatment approaches for racial and ethnic minority groups, understanding mental health disparities among racial and ethnic minorities, and understanding the factors that influence college students' decisions to stay or leave college.