Katherine Alexander, Ph.D.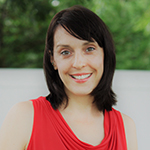 Chair
Associate Professor of Psychology
Ph.D., Rutgers University
M.A., Rutgers University
B.S., Long Island University

katherine.alexander@mountsaintvincent.edu
Areas of Interest 
Social/emotional aspects of eating behavior: emotional eating, binge eating, weight bias
Social psychology
Team-based learning/group dynamics
Dr. Alexander has long been interested in the way that social relationships affect the body, brain, and behavior. Early in her career, she studied how pair bonding alters the growth of new neurons in the brains of birds. She then transitioned to investigating the role of attachment style in emotional eating and binge eating in humans. Currently, she is working with her students to investigate the social and emotional mechanisms that influence eating behavior. This work also deals with the issues of weight related prejudice, stereotypes, and discrimination. Dr. Alexander enjoys connecting students with science. Please contact her if you are interested in research opportunities in her lab.
Courses
PSYC 103 Introduction to Psychology 1
PSYC 104 Introduction to Psychology 2
PSYC 321 Social Psychology
PSYC 332 Special Topics: Brain and Behavior
PSYC 344 Group Dynamics
PSYC 442 Attachment: Examining Close Relationships
Publications
Alexander, K.E. (2017). "Attachment anxiety is associated with a fear of becoming fat which is mediated by binge eating," PeerJ, 5:e3034  Click to view
Alexander, K. (March, 2017). "The Role of Attachment Insecurity in Attitudes Towards Breastfeeding." Presented at the Eastern Psychological Association annual meeting, Boston, Massachusetts
Alexander, K. E. and Siegel, H. I., "Perceived hunger mediates the relationship between attachment anxiety and emotional eating," Eating Behaviors, 14(3), 374-377, 2013
Alexander, K. E., Dios, A., Hansen, S. J., and Cheng, M. F. C., "Specific neural representations for a conceptual set of behavior: Pair bonding," Research and Reports, 2013
"Attachment Anxiety and Perceptions of Team Work in the Classroom," Northeast Conference for Teachers of Psychology, Connecticut, November, 2012
Alexander, K. E., Cheng, M. F., Zhou, S., Bonder, E., and Chuang, L. S., "Newborn GnRH neurons in the adult forebrain of the ring dove. Hormones and Behavior," (60)1, 94-104, 2011