Executive Council
The SGA Executive Council is voted on by the student body. Officers are elected to a term for 1 academic year. The Executive Council is charged with working with the elected senators and classes to govern the student body. The council meets regularly with the SGA senate and the Office of Student Activities, Leadership, and Commuter Life.
2021-2022 Executive Council
President of the Student Body
Amanda Solano '23
Biology
Cranston, RI
Executive Vice President
Gesselle Sanchez '22
Psychology and Spanish
Weslaco, TX
Vice President for Club Relations
Julianna Farrell '22
Business Administration
Freeport, NY
Chief of Staff
Emily Perez-Garcia '22
Sociology and French Studies
Saint-Martin
Chief Justice
Renaenia Pangan '22
History and Communications
Astoria, NY
Executive Secretary
Megan Neiswenter '23
Nursing
Westfield, NJ
Class Officers
The class officers share primary responsibility for the governance and well being of their class. Officers are voted on by the student body and serve one academic year term.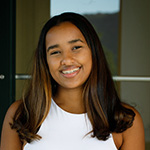 President of the Class of 2022
Alva Guerrero
Biology
Brooklyn, NY
President of the Class of 2023
Anne Rodriguez
Nursing
Huntington Station, NY
President of the Class of 2024
Gabriella Sanchez '24
Communication and Theatre
Teaneck, NJ
President of the Class of 2025
Najae Watford '25
Psychology
Boston, MA